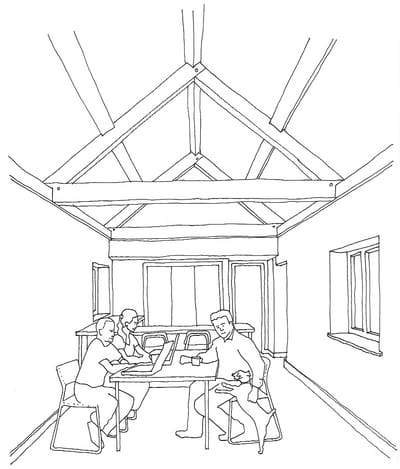 Toby Jefferies and Emma Jarvis are chartered architects, each with over 30 years experience in the construction industry, Toby established the practice in 2006, joined by Emma in 2008.
Previously they worked with the likes of Stride Treglown, Terence O'Rourke, Wicheloe McFarlane / BDP and Alec French Partnership; they have worked across all sectors, chiefly concentrating on public, school and health care projects. They were fortunate to be involved with a number of award winning and notable projects around Bristol and further afield; including schools in London and Bristol, the ss Great Britain, Southmead Hospital, the Nottingham Breast Institute, the Twiverton Teaching Building at Bath Spa University, Reading Business School. They were trustees of the Bristol Architecture Centre from 1996-2004 before moving to South Gloucestershire. They are driven to pursue design quality with creativity, underpinned with extensive practical knowledge and professional experience; both are part time tutors at UK universities, which helps keep them up to date with contemporary design and supports future generations.
They are well versed in commercial projects, with broad experience in statutory, financial and management considerations, as well as acting as specialist consultants to contractors, FM companies, and housing associations, they also undertake bespoke projects for private clients in the domestic, office, leisure, retail, hospitality, landscape, and master-planning disciplines, working closely with consultant teams as necessary; the practice also offers project and financial management services when appropriate.
We are always happy to discuss any potential project, please don't hesitate to contact us by clicking on the link above.
----
Self Build
The practice has first hand experience of self-building through undertaking their own projects and assisting a number of clients in their self-builds. Emma and Toby converted a dilapidated barn into their sustainable family home in 2004; this project combines traditional construction techniques with sensitive integration of the facilities you might expect in a modern home. This project included a locally sourced English Oak frame roof with large format integrated gable glazing, 'Coed Derwen' sustainable Welsh Oak windows, folding sliding doors, ground source / under floor heating, low energy lighting, high levels of insulation and smart home technology.
The practice is an active in the Self Build community and can be seen at Self Build Shows including Home Building & Renovating, Grand Designs and The National Self Build & Renovation Show. As well as enjoying engaging with the public at these events, we also benefit from being able to keep a finger on the pulse of the industry.
This combination of factors means we are well placed to give advice on the realities of delivering dreams and how to tackle the challenge of mobilising and running a domestic project. We draw from our own extensive experiences on small-scale work, as well as being able to utilise a broad range of skills and knowledge gained through professional training and extensive practical experience in broader fields.
----
Emma Jarvis
BA (hons), Dip Arch, RIBA
Emma is a graduate of Plymouth University School of Architecture. Over the past two decades she has been employed by Rod Robinson Architects in Hereford, Gwent County Council Architects, Whicheloe Macfarlane and Building Design Partnership. She is a co-founder of Jarvis Jefferies Architects LLP. She has a wealth of experience working as an architect in charge of multi disciplinary teams on projects ranging from small to large, through concept to completion. She has extensive experience with JCT contracts and a variety of other building contract types and procurement methods. She has worked on all building types and has particular expertise in Healthcare and Education work. With BDP she was the Project Architect for the RIBA and NHS Estates award winning Nottingham Breast Institute, a specialist building for the screening, diagnosis and treatment of breast cancer patients. With Whicheloe Macfarlane she ran a range of projects for Bath Spa University including the Twiverton Teaching building and the Doynton music rooms.
In her spare time Emma is chair of Falfield Parish Council, with particular interest in local transport, planning and sustainability issues. For several years Emma was a Trustee of the BCAA, which runs Bristol Architecture Centre, covering general running of facilities and involved as a member of the exhibition committee. She is also a part time tutor at Bath University.
----
Toby Jefferies
BSc(Hons), BArch, RIBA
Toby trained in construction management before working in an architectural practice and studying at Cardiff University. After graduating, he undertook research and teaching in the Environmental Science Group at the Welsh School of Architecture. He returned to practice in the early 90's, gaining experience in a variety of building types working with some of the south west's leading practices, including Stride Treglown, Terence O'Rourke and Alec French. Toby delivered a number of prestigious projects, including schools in London and Bristol and the later phases of the ss Great Britain facilities. He has experience of many roles, including Senior Project Architect, DDA Assessor and IT Manager, before establishing a new practice. He remains active with interests in sustainability and environmental issues, including working as an in house energy assessor and is involved in local ecology conservation projects in his spare time.
He is an active community member and stood for several years as a Trustee of The Architecture Centre in Bristol; he became a Governor of a local Primary School in 2006, acting as chair for two years. He also chaired a new cycling club in 2017, seeing the membership rise to over 200. He has been active in supporting the self build scene, where he can sometimes be consulted at national trade exhibitions and shows. He is formally appointed as a lecturer at Bath University and is also involved with Cardiff University, through the alumni practice links initiative, as well as acting as a Practice Management and Economics consultant. He recently became an external examiner for Coventry University. Supporting education and community work is something he has been involved with for the majority of his career and he remains committed to contributing to these sectors.